Musical Traditions of Cork & Kerry: Launch Weekend in Leeds
Aidan Connolly came to Leeds in March 2022 to perform for the 'Exploring Musical Traditions County Cork and Kerry' Launch Weekend which involved concerts and community participatory workshops across Leeds. This was part of a series of events for Irish History Month.
As part of the weekend Aidan headlined a presentation on the music of Sliabh Luachra, broadcast live on East Leeds FM from Chapel FM Arts Centre in Seacroft.
This is an excerpt from the concert where Aidan Connolly describes the music of Sliabh Luachra and plays some of the polkas and slides that the area is famous for.
Irish History Month - March 2022 click here
West Kerry Style
As well as the Sliabh-Luachra area the most western part of Kerry is also famous for its music.
The music of Corca Dhuibhne (the Dingle Peninsula) is quite similar to that of the rest of the Kerry/Cork region but with certain distinct variations in the local dances and tunes. Polkas and slides are common here as well except they are played with a faster more driving rhythm, exemplified by the playing of the Begley family of Baile Na Bpoc.
The Irish spoken West of Dingle would have been a slightly different dialect to the Cúil Aodha Irish spoken on the Cork/Kerry border. The Blasket Islands off the coast of Corca Dhuibhne is famous for its spoken and sung Irish, its storytellers and its musicians.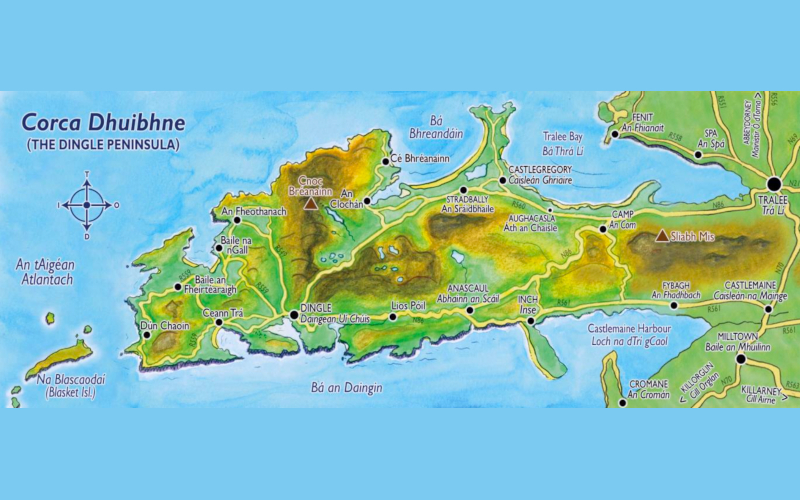 The Music of West Kerry: Méabh Ní Bheaglaoich
Méabh Ní Bheaglaoich is a singer, songwriter and musician whose musical expression and stylings are deeply rooted within the Irish music, language and song tradition of her homeplace of Corca Dhuibhne, the Gaeltacht of West Kerry, Ireland.
A native Irish speaker, Méabh was born into the renowned musical family of the Begleys whose undeniable influence has helped in shaping her playing as well as inspired her development of, and transition into her passion for composing and songwriting.
Méabh leads the music at Nelligans Bar in Dingle where every Monday she teaches the West Kerry Set Dance to locals and tourists alike as well as running music sessions four or more nights a week!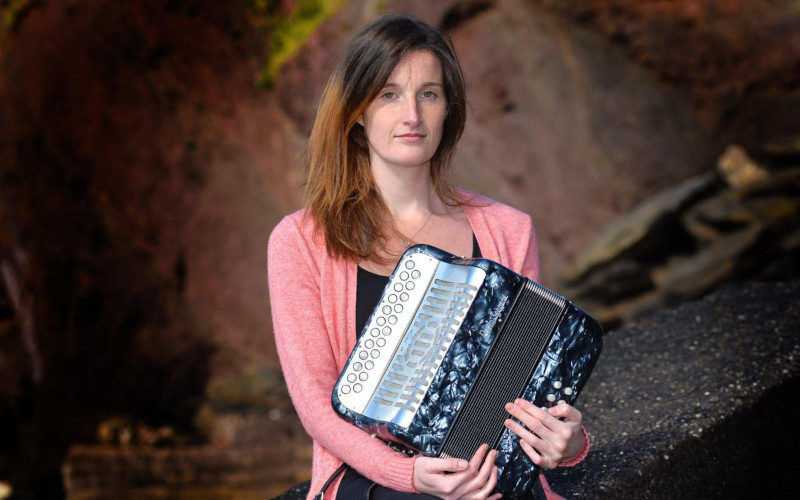 Méabh Ní Bheaglaoich Trio
The trio Méabh Ní Bheaglaoich, Cait Ryan and Owen Spafford came together specially for this project and have since performed together in Ireland and UK.
The trio toured West Yorkshire for Irish Arts Foundation 'Exploring Musical Traditions County Cork and County Kerry' project sharings in July 2022.
This series of community sharings included a live broadcast concert, several workshops, and a Ceili Night at Hyde Park Book Club attended by more than 30 students from Leeds University who had never been to a Ceili, let alone learnt how to dance the West Kerry Set!
This an excerpt from the live broadcast at Chapel FM Arts Centre where Meabh talks about the West Kerry style and performs some polkas with her trio.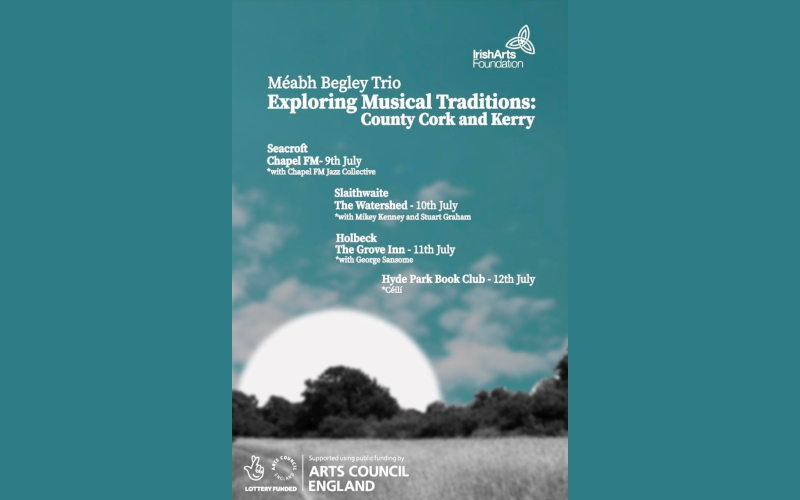 Cork/Kerry Diaspora in Leeds
As part of this project we interviewed members of the Cork/Kerry diaspora, focusing mainly on Leeds but including voices from London and Northamptonshire. The Leeds Cork and Kerry community would be relatively small in relation to the Leeds North Mayo diaspora. Owen Spafford and Des Hurley conducted these interviews in person, online, around Leeds and over zoom; scoping how their experiences of emigration has shaped the Cork/Kerry musical heritage they inherited from their family and communities.
Theresa O'Driscoll
Teresa is a singer and storyteller from County Cork, now residing in Leeds. She has worked for Leeds Irish Health and Homes for a number of years, organising music and poetry events across Leeds.
Here she is interviewed by Owen Spafford about her memories of moving to Leeds and her rich musical life.
Nicolas Long
Nicolas Long is a fiddle player who grew up playing Irish music in North London public houses run by musical families from Kerry. Nicolas' music and individual fiddle style is influenced by his Kerry heritage and frequent trips over to his family home in Listowel.
Like many other cities, such as Leeds with its North Mayo connection, Birmingham with its Roscommon connection, Manchester with its East Mayo and South Sligo connections and Glasgow with its Donegal connections, similarly, London was a first place for many of the 1950's and 1960's for emigration from Kerry to join up with family or friends, for employment or seeking adventure.
click here THE IRISH SESSION: Separating the myths from the facts on the origins of the time-honoured tradition - irishpost.com
click here The Voice of the People – Irish Music In London - topicrecords.co.uk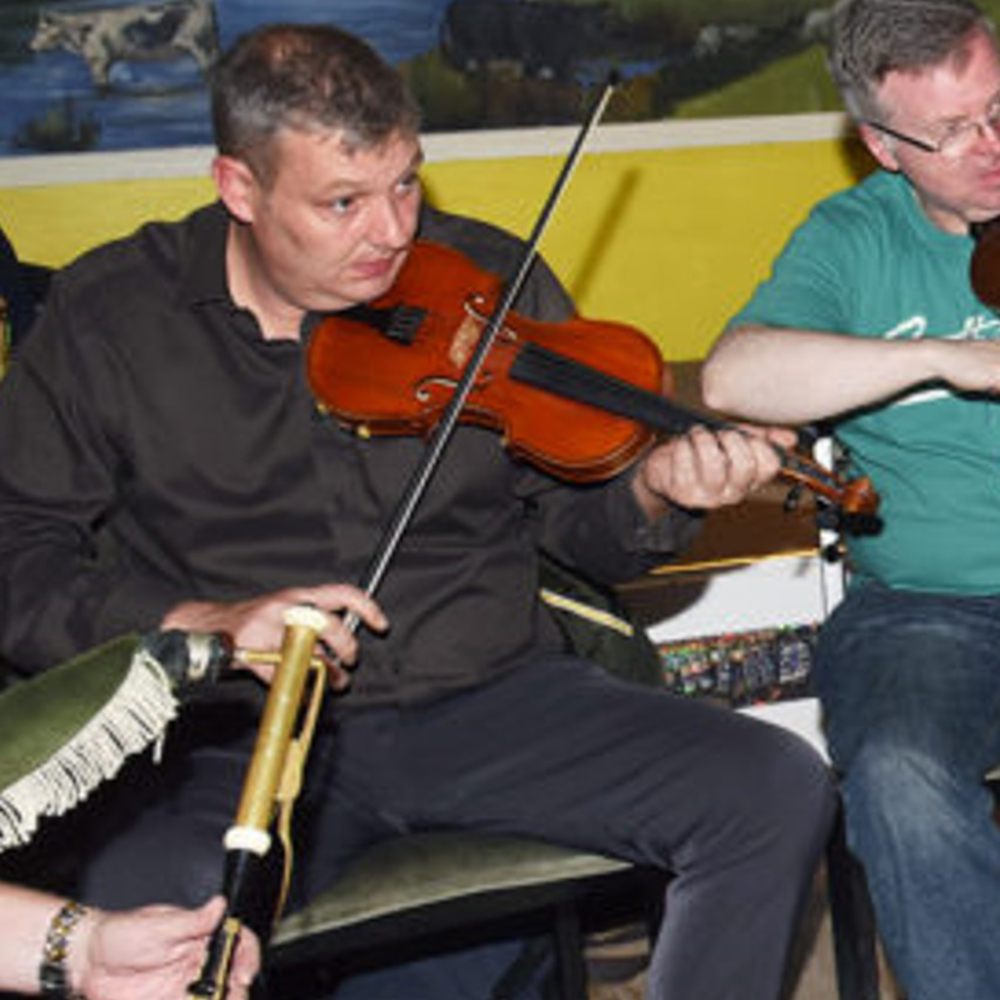 John McMullen
'From Waterville to Armley...'
John 'Mac' McMullen was raised in Waterville, County Kerry, a small coastal village located between the Atlantic Ocean and Lough Currane on the scenic and famous Ring of Kerry and close to the Gaeltacht (Irish speaking) area of the county.
Irish traditional music in this area and indeed most parts of Ireland was almost non-existent at this time, there was far more interest in going to hear the travelling showbands at the dance halls in the area.
The family had moved to Waterville when Mac was just three months old. His father worked as a telegraphist stationed in the Waterville station: ten miles from the nearby Valentia Island station from where in 1866 the first commercially viable transatlantic telegraph had been laid across the Atlantic from Hearts Content in Newfoundland in Canada to Valentia Island.
In 1962 at the age of seventeen, following the closure of the station. Mac and his family moved to England, where he was inspired by the burgeoning 1960's English folk revival.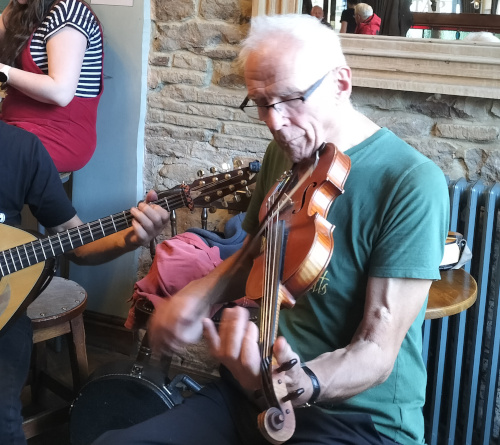 After four years in the Merchant Navy, in 1968 he had come to Leeds to study Social Sciences at the University of Leeds: living in the Hyde Park and Woodhouse student areas close to the University. Post graduation he stayed in the city and between 1972 and 1986 worked as a Community Worker in the Osmondthorpe and Middleton inner city areas of Leeds.
In 1972 Mac went to the Listowel Fleadh where he learnt a decent repertoire of slides and polkas from local players as well as musicians from across Ireland. The same year his interest in folk and Irish music was reignited with a visit to an upstairs folk club at 'The Builders' in Huddersfield to hear four almost unheard-of touring Irish artists: Liam O'Flynn, Andy Irvine, Donal Lunny and Christy Moore later that year to form as Planxty. Planxty arguably transformed and popularised Irish folk music, touring in Ireland and internationally and recording to great acclaim
Between 1968 and 1978, a couple from County Mayo, Martin, and Nellie Ferguson, ran the Regent Hotel, in the Sheepscar area of the city, a mile or so to the northeast of the centre of Leeds. It became the meeting or a stopover place for many Irish traditional musicians in the north of England and Irish touring musicians. The Leeds Branch of Comhaltas Ceoltóirí Eireann (Irish Musicians Association) was formed there in 1969. The public houses in the inner city Sheepscar area had become a focal point for the post 1950's Leeds Irish community.
"Every Friday, Saturday night, Sunday lunchtime, they closed at 2pm back then, and Sunday night there would be a session of Irish music: predominantly Mayo musicians, always very welcoming but you always waited to be invited to join the session and didn't just join in.
"The Regent was a real mixture: Irish people who had been in the city for some years, new arrivals in the city from Ireland, students, academics, folkies, police officers, newspaper and radio journalists and some of the Irish Traveller community from the site at Cottingley Springs.
"On a Tuesday or Thursday night you could go also out for a session just up the road from The Regent to The (Old) Roscoe. I learned so much just listening to and chatting to some of these musicians."
The Roscoe was demolished in 1982 to make way for the Sheepscar interchange.
"After the sessions finished in The Regent and The Roscoe, we stayed around Sheepscar and moved to The Victoria, The White Stag, and in my latter years in Leeds, The Pointer".
Mac had moved to the inner city Armley area of West Leeds in early 1988: "still on a bus route to get down to the sessions in Sheepscar...". The following year he became involved in a local campaign that was to receive national coverage: The Armley Asbestos Campaign.
Asbestos manufacturers JW Roberts Ltd (later known as Turner & Newall, or T&N) had established a factory in Armley during the first half of the twentieth century. When the factory closed down in 1959, people living in the area were largely unaware of the severe health risks to which they had been exposed.
The local Yorkshire Evening Post and Yorkshire TV had researched and screened the documentary- 'First Tuesday. With A little Help'-into the deaths of Armley residents, particularly in the Armley Lodge area, raising the issue that numerous people who had died from cancer, had links to the factory. The neighbourhood was found to have the country's highest levels of mesothelioma - a malignant tumour that is caused by inhaled asbestos fibres and forms in the lining of the lungs, abdomen, or heart.
Mac later was invited to become the media spokesperson for the group and for many years worked for the campaign including a spell as Chair.
After the campaign began to wind down, in 2005 John 'Mac' McMullen moved over to Marsden in the South Pennines to continue his other great love of hill walking and also took up wild swimming!
Regularly visiting old friends back in Leeds, he continues to perform with local musicians and singers at regular Irish music sessions and community events in the Colne Valley and Huddersfield, passing on the musical traditions of County Kerry.
Article - click here For 125 years it was a melting pot of music, merriment, and memories for the city's Irish community....
Article - click here The Sheepscar Triangle-the Irish community in Leeds
Karen Tweed
Karen Tweed started to play the piano accordion at the age of 11 under the guidance of Joe Coll, who came to Wellingborough, Northamptonshire to teach the accordion and also recruit players for his accordion band which was based in Corby.
Karen grew up surrounded by musicians and dancers from the sizeable Northampton/Kerry community, many of whom moved from London to work on the further development of the M1 motorway in the early and mid-1960s.
Karen lived in Leeds for some years and played with many respected Leeds-Irish musicians.
Here Karen is interviewed by Des Hurley, Chief Executive of Irish Arts Foundation and Owen Spafford. She recalls fond memories of her time studying at Leeds Polytechnic in the early 1980s and playing in music sessions in Leeds.
BBC Program - click here "The Secret Life of the Motorway"
Mark Sexton
Former treasurer of Leeds St Patrick's Day Committee speaks to Owen Spafford about his musical surroundings in County Cork and his experience of moving to Leeds in the 1990s following graduation from the University of Cork.
He quickly became immersed and welcomed in the Leeds-Irish Community.
Sabrina Piggott
Sabrina Piggott was born in Cobh, the seaport town on the south side of Cork City. Known from 1849 until 1920 as Queenstown: Cobh is probably best known for being the 'last port of call' to the ill-fated RMS Titanic who on 11 April 1912, berthed at Queenstown, before she set out across the Atlantic on the last leg of her maiden voyage.
Sabrina is interviewed by Des Hurley about her rich musical upbringing in County Cork and her experience of moving to Leeds in the mid 1990s.
From a family immersed in traditional Irish music and singing, Sabrina recalls the music and house sessions in the-smoke filled! - kitchen "at the age of three, listening on the staircase -I refused to go to bed and got invited down!"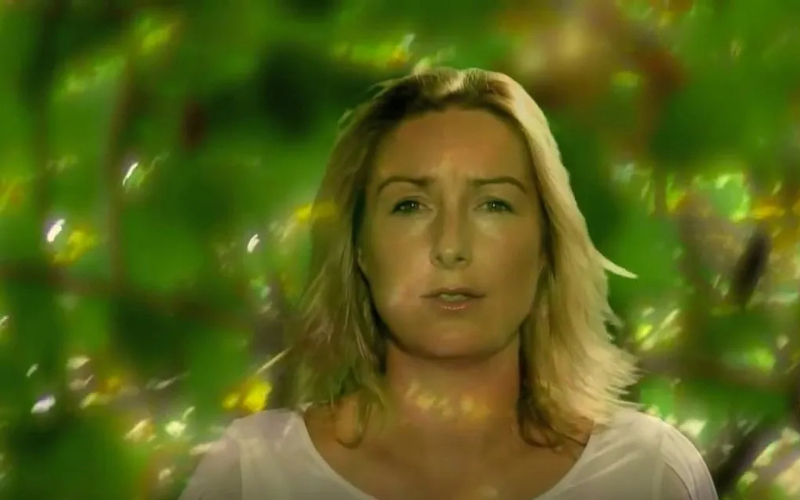 "We went up to Galway in the summer holidays to visit relatives-I went to a session aged about nine or ten... My parents bought me a bodhran and I started going to the session at 'The Roaring Donkey' in Cobh... I was the only teenager there: all my friends went to the local disco!"
"I used to have to heat up the goatskin with a hand drier in the toilet or a hot water bottle! "
In 1996 Sabrina left Cobh to study sports management at Leeds Beckett University which was, back then, Leeds Metropolitan University having been renamed from Leeds Polytechnic.
"I had really enjoyed playing sports back 'home,' particularly basketball and camogie"
Sabrina had an aunt living in Yeadon-around nine miles from the university- where she stayed during her first academic year.
"I was very homesick: …I would say, 'How's it going?' when I would pass people on the street and get odd looks! -it was all a real culture shock"
I her second year in Leeds, Sabrina moved to the Burley area of the city to be nearer to the university.
Sabrina had heard about the Tuesday night Irish Music sessions in The Victoria in Sheepscar after a call to the Leeds Irish Centre.
"I was flat broke and only had enough money to get the bus to Sheepscar, not even enough money for a packet of Tayto crisps or a glass of Cidona! I just turned up with my bodhran and didn't know a soul.
"Getting involved with the sessions gave me a real sense of my Irish identity - getting to know the musicians in The Victoria, The White Stag, and for a period, O'Neill's on Park Row in town. Many have since become lifelong friends"
Post-graduation and PGCE, Sabrina worked firstly at St Michaels College in Leeds and subsequently worked across Bradford Metropolitan District in various secondary schools and sixth form colleges.
To many in the folk and world music scenes, Sabrina would now be better known as a singer/songwriter rather than a traditional Irish musician.
"I had played the guitar for a number of years, having taken it up as a youngster, but never played or performed any of my material in public. Some of the songs I wrote when I first came to Leeds where often about missing family and friends back in Ireland"
Around 2008, following a chance conversation, with Dublin born Leeds based poet Siobhan MacMahon, Sabrina was invited by Siobhan to musically collaborate on the project, 'The Mouth of The Cave'.
"Initially the musical focus was the beat of the bodhran: the more we experimented and explored the poetry, we interspersed the performance with the music and songs I had written but never shared"
In 2013 Sabrina decided to take a break from teaching to focus on her music: performing and travelling to New York, Paris, Australia, New Zealand, and Ireland and writing the material for her first album, 'Roots & Wings'.
"One of the best years of my life: to wake up and my sole focus was to prepare for a gig or put pen to paper writing songs!"
"Leeds has been good to me- it has very much allowed me to be the person I am today by giving me the confidence to acknowledge my heritage and culture and shared and very different musical influences"
"I fly back to Cobh at least three times a year… the first time I went 'home' it took me twenty-six hours!"
"I took the bus from Leeds Irish Centre, the overnight Holyhead ferry and then the bus down to Cork City- it took me twenty-six hours: and I had to do the same journey back!"
click here www.sabrinapiggott.com
Story of a Kerry Ballad
In July as part of the Exploring Musical Traditions County Cork and County Kerry Tour we launched our creative research and development project 'Story of a Kerry Ballad - Reimagine an ancient Kerry ballad; a unique opportunity to explore the story of one Irish Ballad and celebrate its living oral tradition.'
This unique launch event at Chapel FM traced the song, 'The Pretty Milkmaid (Cailin Deas Crúite na mBó)' as the song travelled from Kerry to Lincolnshire, Hollywood and beyond. Hosting the event was Meabh Begley who learnt this song from her grandfather.
Méabh Begley, Leeds duo Ruben Maric and Alana Middleton, fiddler Owen Spafford, and Chapel FM Jazz Collective each performed their own specially commissioned version of the ballad.
Cailin Deas Crúite na mBó – The Pretty Milkmaid Milking Her Cow
Cailin Deas Crúite na mBó is a traditional Irish/English ballad, probably dating back to the 18th Century.
Mary Hoare a 15 year old farmers daughter was recorded singing this song in 1907 in Ballyferriter on the Dingle Peninsula, within 20 miles from where Meabh Begley grew up in Baile Na Bpoc.
Variants of the song have been recorded everywhere from Lincolnshire to Australia, Japan and the Catskills Mountains. It was even recorded by Judy Garland for a major Hollywood production.
click here This is a Spotify Playlist compiling some of the many different versions.
click here And you can read more about the history of the song here
Story of a Kerry Ballad: Special Commissions
As part of this project Irish Arts Foundation commissioned four new pieces of music based on the Cailin Deas Crúite na mBó ballad. These new commissions were composed and arranged in keeping with the oral tradition of reinvention and reimagining of traditional folk songs and tunes. Each artist focused on a different part of the ballads history as a starting point for a new piece, whether that be Judy Garland's big band swing rendition, Mary Hoare's traditional singing or the English language Lincolnshire variant. These are the four new pieces that were performed and recorded.
Meabh Begley Trio
Meabh Begley – Voice
Cait Ni Riain – Piano
Owen Spafford – Fiddle
Live at Chapel FM Arts Centre, July 2022
Owen Spafford and Friends
Owen Spafford – Fiddle
Tom O'Brien – Piano
Jonah Evans – Drums
Richard Ormrod – Bass Clarinet
Recorded at Evoke Studios, Meanwood July 2022
Ruben Maric and Alana Middleton
Leeds duo performing their rendition, inspired by the singing of Lincolnshire farmer Joseph Leaning.
Alana Middleton – Voice
Ruben Maric –Piano
Live at Chapel FM Arts Centre, July 2022
Chapel FM Jazz Collective
Led by Dave Evans
Sam – Tenor Sax
Dave – Soprano Sax
Chris – Baritone Sax
Diggory – Trumpet
Seb – Trumpet
Toby – Guitar
Sean – Drums
Bass – Sam
Keyboard – Jonah
Live at Chapel FM Arts Centre, July 2022
To Conclude and Finish Disputes
This project was a social and musical research program gathering interviews, exploring the oral tradition in Sliabh Luachra and how it influenced musicians all over the world.
The music of this area has a rich history and is constantly being reshaped by ensembles ranging from Meabh Begley Trio to Chapel FM Jazz Collective and Aidan Connolly.
Because of the work of many organisations, individuals and communities, the traditional music and dance of Sliabh Luachra and Cork and Kerry as a whole is thriving.
Thank you to all who helped in this project, we couldn't have done it without you!
---
Further reading
click here (www.rushymountain.com) Website dedicated to the music of Sliabh Luachra
click here (www.sliabhluachra.ie) Tourist information on the region
click here (www.westcorkmusic) Traditional music festival in West Cork
click here (www.fiddlefair.com) Fiddle festival in Cork
click here (www.scoilcheoil.com) Festival of West Kerry music
click here (www.patrickokeeffefestival.com) Festival of Sliabh Luachra music
click here (www.chapelfm.co.uk) Chapel FM Media PLayer
Listen to this Irish Arts Foundation Spotify Playlist and hear from the great wealth of astounding musicians and singers that the Sliabh Luachra area has produced over the past one hundred years.
click here (www.spotify.com) Exploring the Musical Traditions of Co. Cork & Co. Kerry Spotify playlist